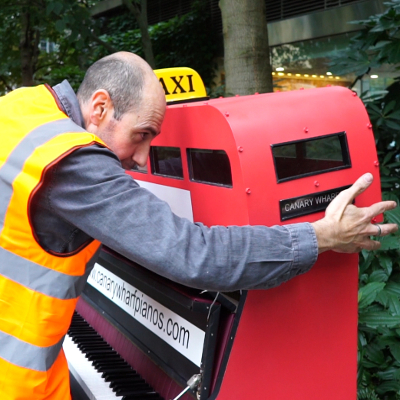 Commission: Play Me, I'm Yours – Kinetic Sculpture.
Great news! I have been commissioned by Canary Wharf Group PLC to create "The Moving Piano", a large-scale kinetic sculpture that will transform an actual piano. The work will be exhibited in Canary Wharf, London, in September 2015 as part of the "Play Me, I'm Yours" project.
Touring internationally since 2008, "Play Me, I'm Yours" is a project by Luke Jerram. Reaching over six million people worldwide – more than 1,300 pianos have already been installed in 45 cities across the globe, from New York to Paris, bearing the simple instruction "Play Me, I'm Yours".
Located in public parks, bus shelters and train stations, markets and even on ferries the pianos are available for any member of the public to play and enjoy. Who plays them and how long they remain on the streets is up to each community. By creating a place of exchange Play Me, I'm Yours invites the public to engage with, activate and take ownership of their urban environment.