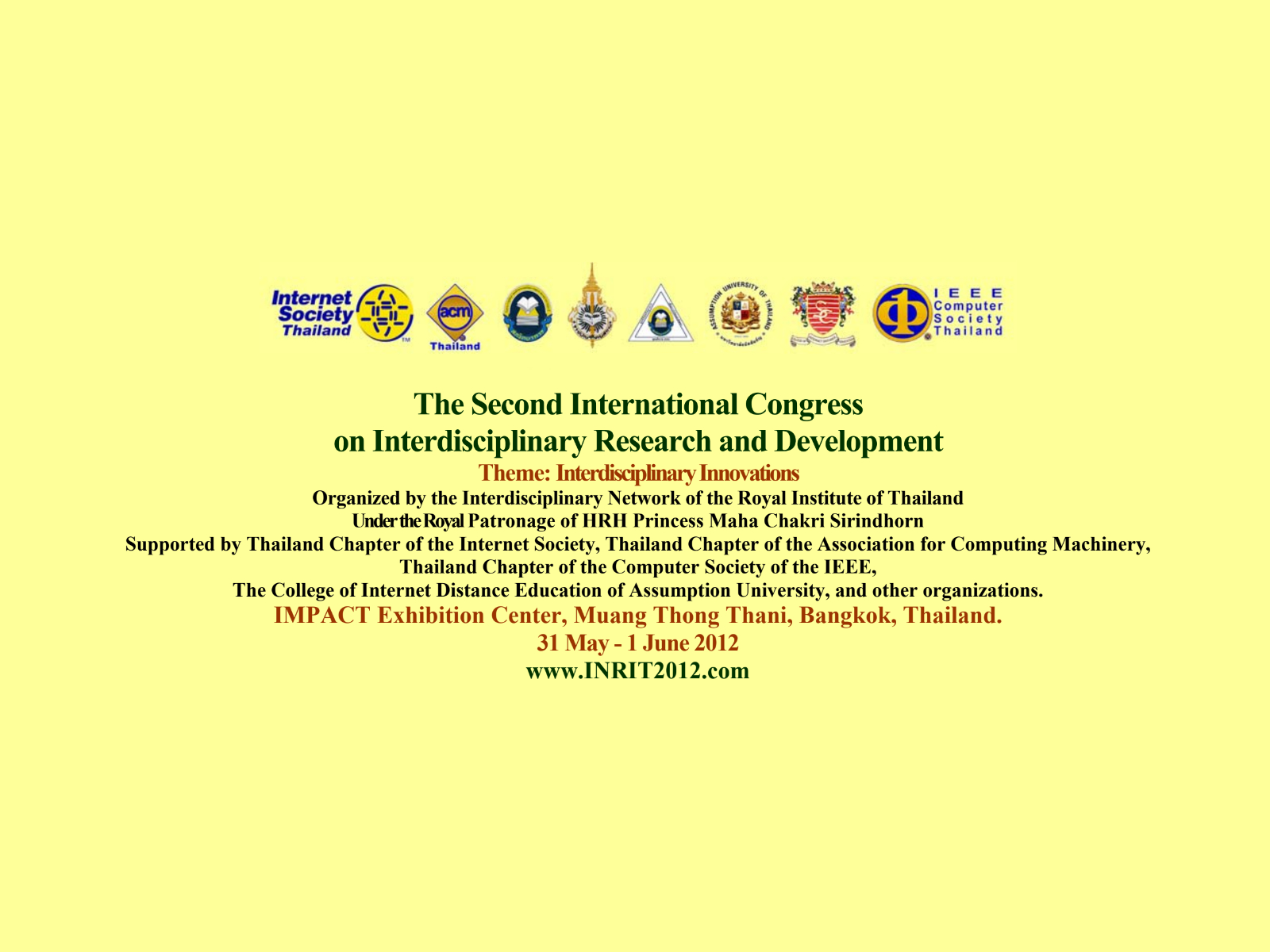 2nd International Congress of Interdisciplinary Research and Development
I will be a keynote speaker at the 2nd International Congress of Interdisciplinary Research and Development, INRIT2012, in Bangkok, Thailand, from Thursday 31st May-Friday 1st June. The theme of the Congress is Interdisciplinary Innovations.
Interdisciplinary activities are activities that involve interaction among two or more disciplines. Innovation is the creation of better or more effective ideas, technologies, processes, products, or services. There are many reasons why innovations are needed, such as for progression of human well-being, for economic growth, for competitive advantages, for higher business revenues. The topics of interest of this Congress are interdisciplinary innovations involving two or more of disciplines such as Arts, Education, Health Sciences, Psychology etc.
The Objectives of the congress are as follows:
To share knowledge and advances in Interdisciplinary Innovations.
To build networks of professionals, researchers, educators and policy-makers practicing Interdisciplinary Innovations.
To expand the opportunity for knowledge interchange.
To facilitate knowledge-sharing for ongoing initiatives.
To build repositories of current practices and lessons learned.
All papers will be published in a Special Issue of the International Journal of the Computer, the Internet and Management (IJCIM), ISSN 0858-7027, www.ijcim.th.org, in the e-form first, and then the printed form later.
The Congress is organized by the Interdisciplinary Network of the Royal Institute of Thailand
under the Royal Patronage of HRH Princess Maha Chakri Sirindhorn, and
supported by Thailand Chapter of the Internet Society,
Thailand Chapter of the Association for Computing Machinery,
Thailand Chapter of the Computer Society of the IEEE,
The College of Internet Distance Education of Assumption University,
and other organizations.